Kangarootime's next-generation childcare software helps you optimise your centres
Kangarootime's software allows for connectivity and communication between your centres. With in-depth reporting, automatic billing and invoicing, an all-in-one parent app, and more, Kangarootime has everything your centre needs to succeed. Now, you can focus on growing your business knowing Kangarootime is taking care of the rest.
Greater connectivity across your business.
Kangarootime allows you to view data and information for multiple centres, resulting in greater connectivity and reporting. Now you can make informed decisions and optimise your business. Learn more.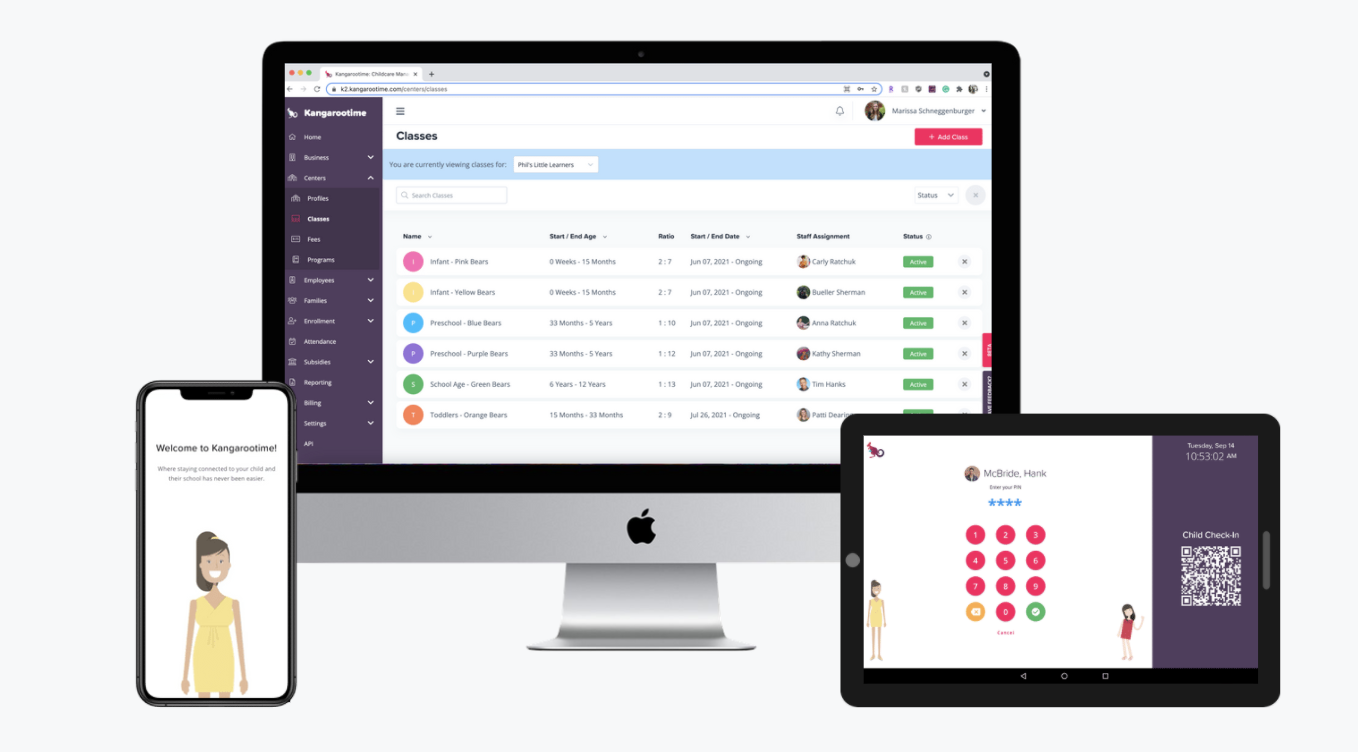 An all-in-one Parent App for easy communication.
User-friendly design helps you make the most out of our software.
Make check-in and check-out a breeze with our kiosk.
Optimize and organize all of your center's important information in one, secure place.
LEARN MORE
Thoughtfully Designed Features to Help Your Centres Succeed
Kangarootime's platform was designed with your centres in mind. From our beautiful interface to adept features, we made sure our software has everything your centres need.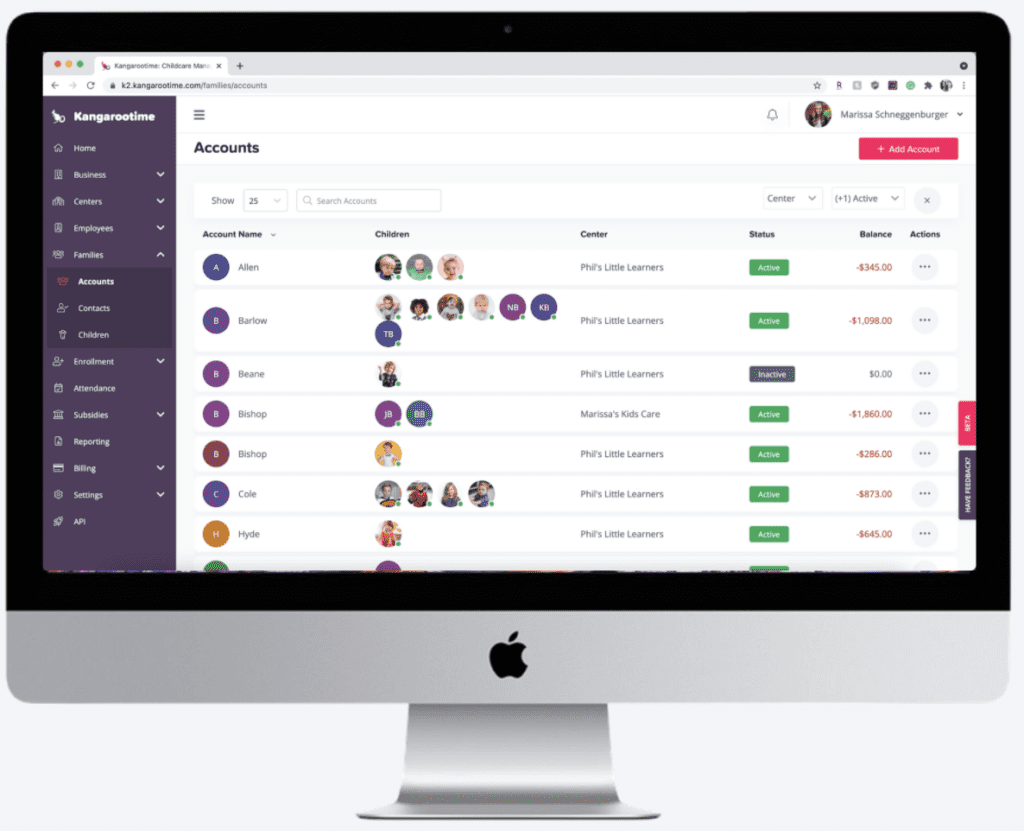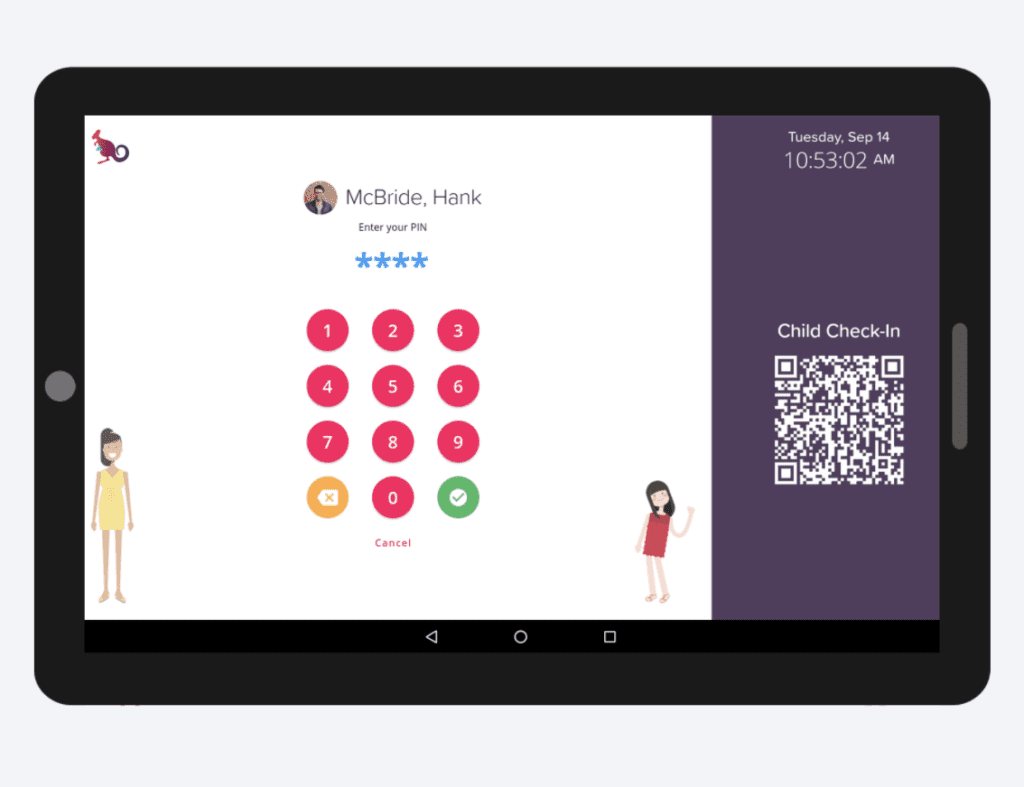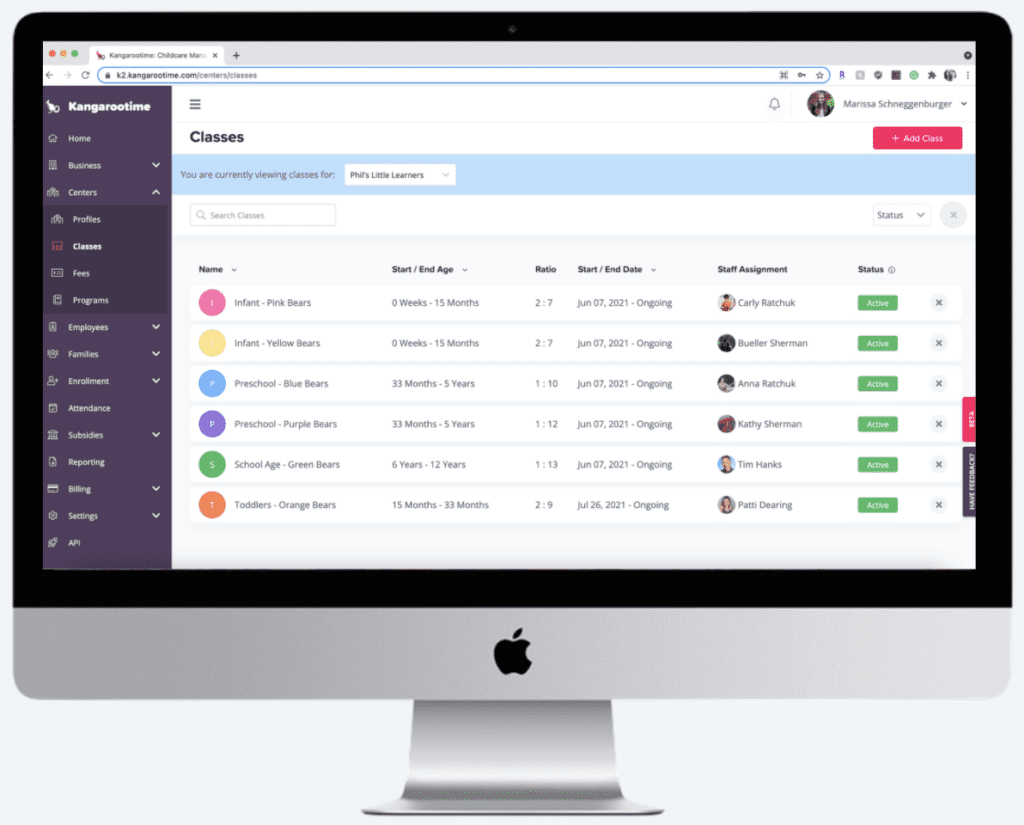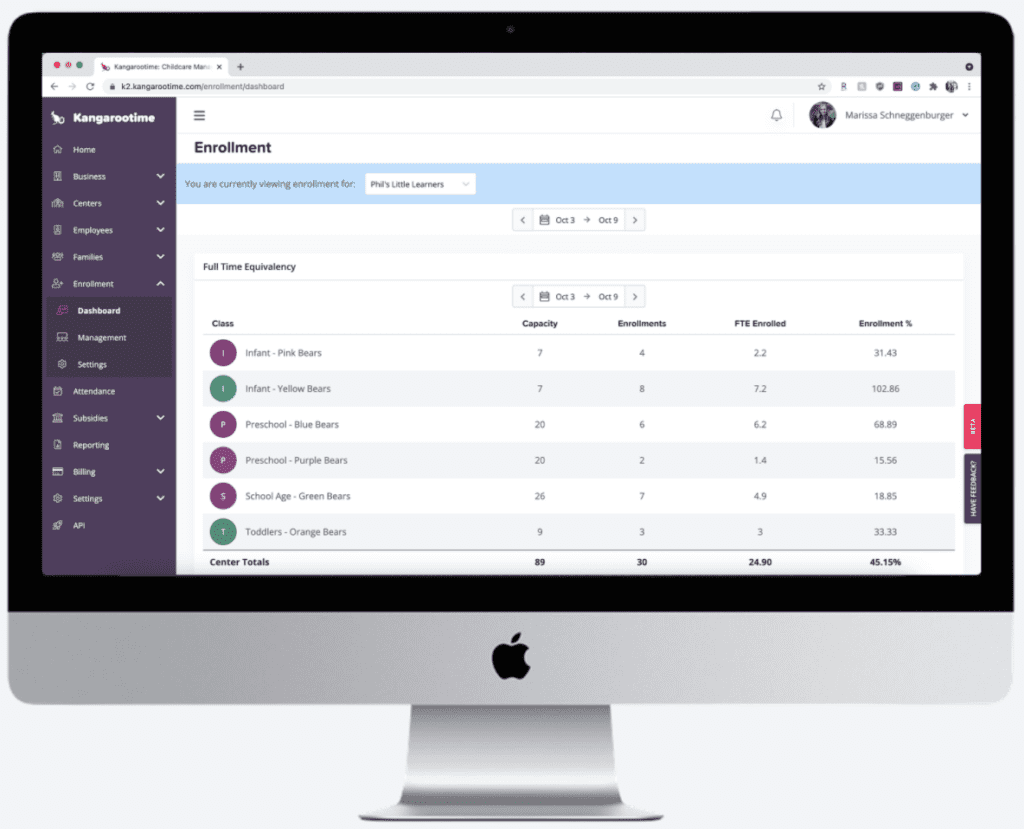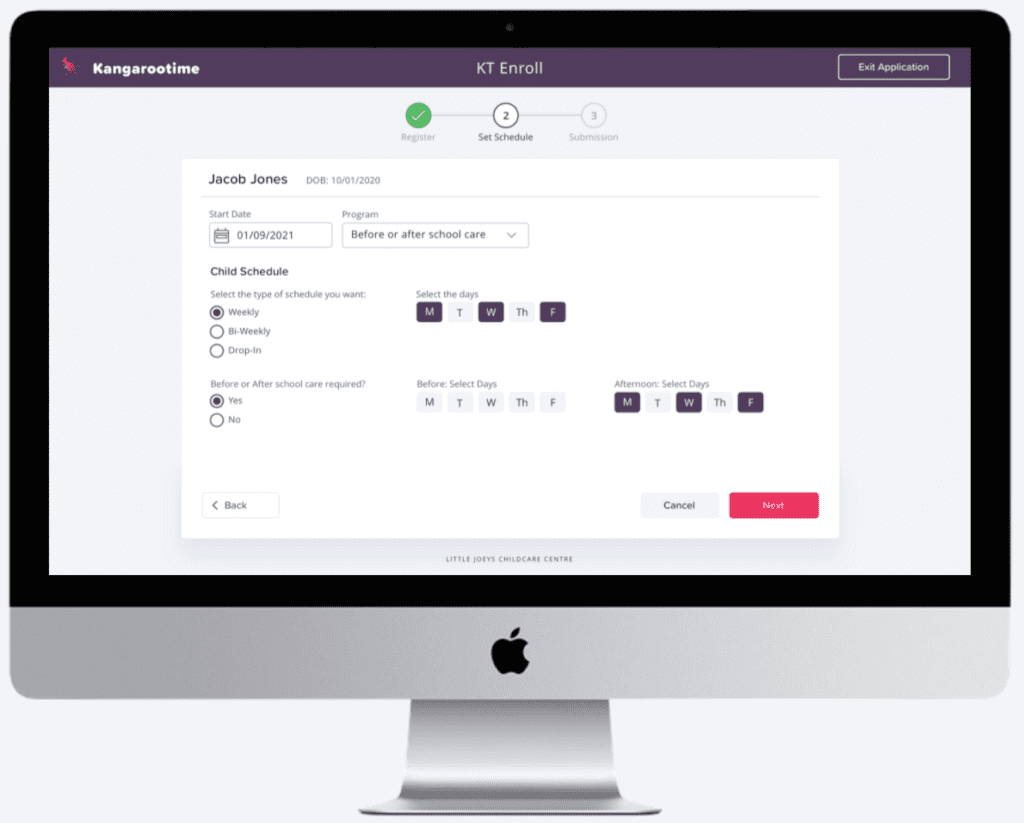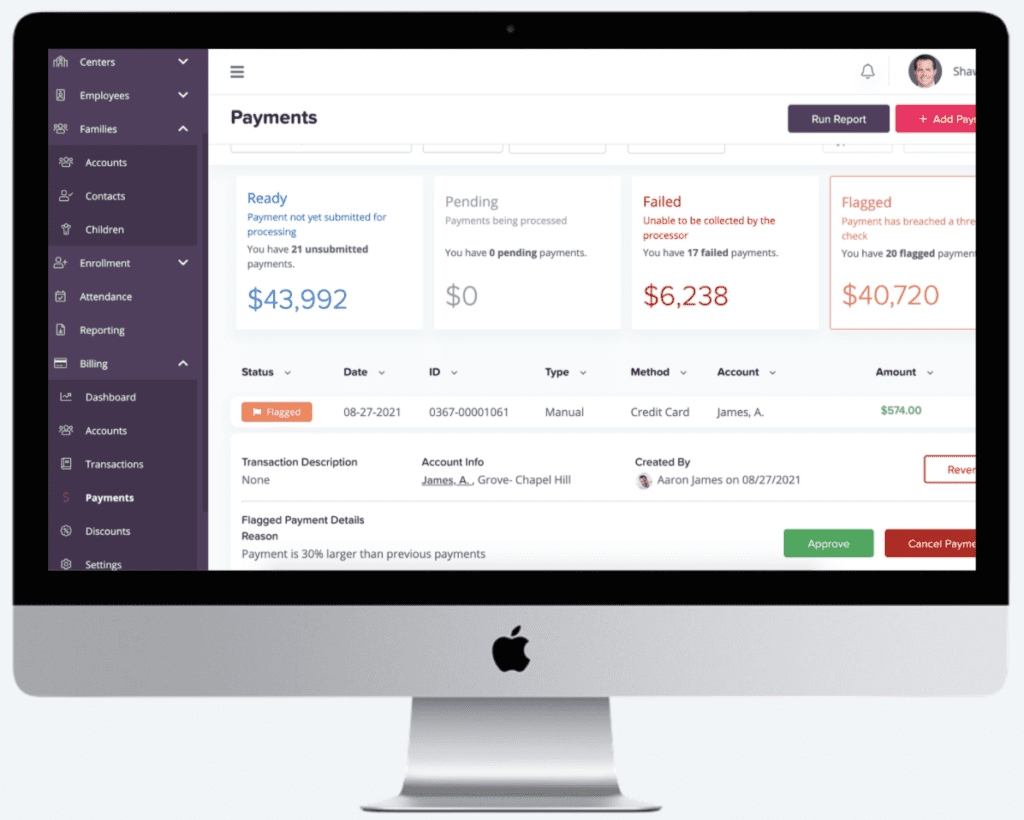 Hear what our customers have to say…
Owners, directors and educators love our management software for its ease of use and how simple it is to get started!
Kangarootime has allowed us to reduce the amount of paper we use in the center, which is a huge cost savings. In addition, our parent satisfaction has increased because Kangarootime is an All-in-One app that allows them to manage the entire preschool experience.

Karla F.

Vice President
Kangarootime has helped us streamline our finances in addition to being a great tool to communicate with families. I am a newer director and Kangarootime saved me a lot of time and allowed me to focus more on our staff and children, instead of spending all of my time worrying about collecting tuition and bookkeeping.

Mary E.

Director
Collecting payments from parents has become easier since everything is done through the app and they receive invoices daily. As a administrator of three sites I like being able to see what is happening at all three locations while not having to be on site.

Rebecca D.

Executive Director
Software gives our administrators constant visibility to room attendance and staffing. Parents love the smartphone app and the ability to communicate directly with teachers and administrators. Teachers love how the software helps them easily enter updates on the children without having to type out full sentences on the tablet.

David K.

Owner & President
Ready to take the next step?
Learn more about Kangarootime.
Fill out the form at the button below.
LEARN MORE
Hours of employees' time saved
Stay on top of all the latest Kangarootime news.
Don't worry, we aren't fans of spam, so we won't flood your inbox!