Watch your little one grow.
Kangarootime's parent and childcare communication app helps parents stay connected to their little one's care. View your child's daily activities, check them in and out of your center and manage your payments all through Kangarootime's easy-to-use Parent App.
Connect with your little one's care during the day.
Stay up-to-date with your child's daily care. See in real time when your little one meets a developmental milestone, enjoys a meal or snack, takes a nap, and learns something new!
Easily make your payments.
It's easy to make your tuition payments with our secure online payment portal. You can even make payments on the go with our Parent App. You can also store your payment information and enroll in autopay.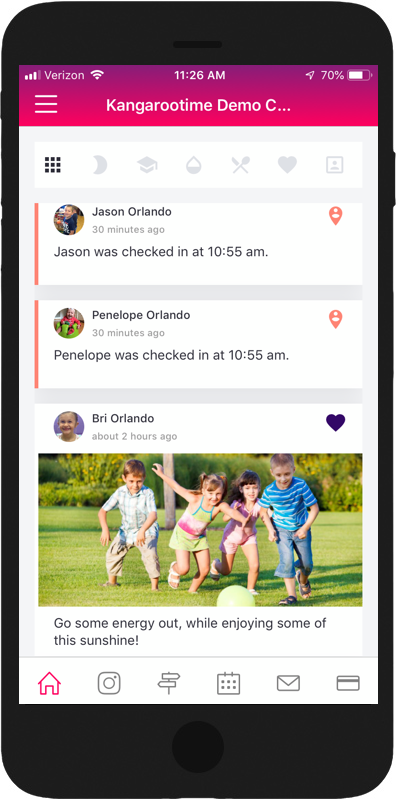 Manage your documents electronically.
Manage your documents simply with our software. You can send your child's paperwork quickly and easily with Kangarootime's mobile upload feature.
Quickly check in and out, and authorize the right people to pick your child up.
Check your little one in and out of your center securely and quickly with Kangarootime's Parent App. Assigning pick-up privileges for your little one is also conveniently located within our Parent App.
Designed with parents in mind.
Our parent and childcare communication software and app was designed with the needs of parents in mind. Watch and monitor your child's development with ease using Kangarootime's Parent App. Our software gives parents peace of mind and makes managing childcare simple.
Invite your center to use Kangarootime.
Click the invite button to take the next step in inviting your school.