Conference season is in full swing for childcare and early learning professionals. Due to the pandemic, most of these events have been postponed or moved virtually. With a better understanding of safety, more conferences have taken place in-person in 2022. 
1. Learn
The information you get from live conferences is invaluable. You'll learn from amazing speakers and gain insight in different areas of your business. From managing classrooms and improving culture to raising capital and acquiring new real estate, conferences offer a wide range of topics. You'll also be able to take your new knowledge and tips back to your team, improving their skills and your center's culture. 
2. Gain a New Perspective
Along with the tips, tricks, and tactics you'll learn, conferences also help you gain a new perspective on managing a center in the childcare industry. You'll get new ideas for ways to increase efficiency, better retain staff, implement new programs, increase offerings, etc. 
3. Expand Your Network
Conferences are a great way to connect with coaches, consultants, and speakers in the ECE industry. These leaders will be able to help you as you manage and grow your center. In addition, you'll have the opportunity to speak with other owners and directors, exchange ideas, and discuss experiences. This can be super beneficial when navigating owning and maintaining your childcare centers. 
4. Find New Tools
Many conferences will have vendors present throughout the event. You will be able to connect with these vendors, learn about their offerings, and add new tools to your center. These tools can include a childcare software like Kangarootime, a CRM like Intellikids, education materials, insurance information, and much more. All of these tools are necessary for your center to grow and thrive. A conference is a great way to get a first-hand look at the tools 
5. Explore Different Cities
Childcare conferences take place all over the world! You'll get to travel to new places, see new sites, and meet plenty of new people when attending these events. 
6. Have Fun!
Conferences are a great time to take a break from the craziness of working in childcare. In addition to networking and gaining access to great content, you'll get to participate in fun events and relax when the day is done. Recharge your batteries and take advantage of these great opportunities!
Kangarootime's Bounce Conference 2022
Kangarootime is hosting our very own conference this summer in Buffalo, NY! From July 20-22, you can join us to hear from ECE leaders while connecting to other owners and directors in the industry. Learn, network, and, most importantly, have fun!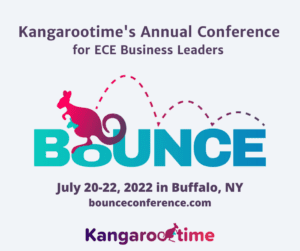 To learn more and sign up, visit our website: https://www.bounceconference.com/
For any questions, reach out to bounce@kangarootime.com. See you there!
---
Kangarootime is the leading all-in-one childcare management software for daycares and preschools. With billing and invoicing capabilities, parent communication and staff management tools and classroom automation, Kangarootime helps childcare centers grow and scale. To learn more about optimizing your center with Kangarootime, visit kangarootime.com