No-shows can be really draining when you're trying to boost your enrollment at your childcare center. There are a variety of reasons why parents may not show up for a tour. Some of these reasons include:
Making the appointment so far in advance that the timing is no longer convenient
Simply forgetting to cancel the appointment
Conflicts with work
Or even transportation issues
Life is not always going to go as planned and families will sometimes need to change or cancel a tour appointment. But did you know that can reduce no-shows by 35%?!
Here are some tips to help you start reducing no-shows today. 
1. Use the Parent's Preferred Contact Method
Telephone appointment reminders can't hurt, but they may be ignored. Many of today's parents are more likely to pay attention to a text or email. But most importantly, choose the reminder method that the family prefers. This can have a big impact on reducing no-shows. Plus, the good news is that if they prefer text or email, you can automate those messages, so reminders are sent without you lifting a finger.
Pro Tip: Use a CRM (Customer Relationship Management) to easily keep track of your inquiring families' information and contact preferences.
2. Send Automatic Appointment Reminders
More on that whole "not lifting a finger" thing…. With a CRM system, you can tell the platform when to send emails and text messages for you. That gives a whole new meaning to the term "virtual assistant."
Once a parent or guardian selects a time and date that fits their schedule using ChildcareCRM's Parent Scheduled Tours feature, they're automatically sent an email and/or text confirmation. They will continue to receive email/text reminders (based on their preference) until the day of their tour, at whatever frequency you'd like!
For example, if Mrs. Jones requests a tour on Monday but the tour isn't until Friday, she'll receive an immediate confirmation on Monday, a follow-up reminder on Thursday (one day before her tour), and a final reminder on Friday (1 hour prior to her appointment).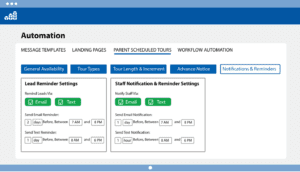 This is the Administrative view for you and your staff when you set-up parent and staff tour reminders.
3. Don't Schedule Tours Too Far in Advance
Let's say an expecting parent wants to be extra-prepared with childcare once they return to work. So, they schedule an appointment with you for six months from now, after their child has been born. Well, odds are in six months when they're caring for a newborn, the last thing on their mind is going to be attending that tour.
If a parent wants to schedule a tour in six months, you might consider waiting until closer to their desired start date to schedule an appointment. A lot about a person's schedule can change in that amount of time and people are much more likely to forget about something that far away. 
4. Make Scheduling Simple
In case you've read the words "Parent Scheduled Tours" and thought "what in the world is this lady talking about?" I'll just go ahead and give you the rundown. Here's why center directors like it so much:
You set your own availability. Depending on when you or your staff want to offer tours, you can build a custom schedule in advance and provide options to parents based solely on when you're free.
It's easy, breezy and beautiful. Sure, it's not CoverGirl. But the Parent Scheduled Tours layout is fully customizable to fit your brand. You can easily change the colors, the fonts and the sizing so that it matches your website.
Parents like it. This may be one of the most essential reasons to start using Parent Scheduled Tours. If parents are happy, then your staff will be happy and in turn, you'll be happy! That leads to higher staff retention rates and improved employee morale.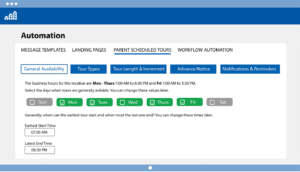 This is the Administrative view for you and your staff when you establish your tour availability.
5. Follow-up After a Cancellation or No-show
By reaching out to learn why a tour appointment was missed, you and your staff may begin to see some trends or notice process errors that could be corrected to improve the number of kept appointments. Reach out with a quick survey via email to ask families why they couldn't make it. This is also a great time to encourage them to reschedule another appointment.
Pro Tip: Use a CRM to automate tour follow-up communications via email or text so parents remain engaged without you having to lift a finger.
Click here to download a free email template for families who cancel or no-show for tours at your center.
Want to learn more about how ChildcareCRM and Parent Scheduled Tours can help minimize lead loss? Schedule a demo today.
---
Kangarootime is the leading all-in-one childcare management software for daycares and preschools. With billing and invoicing capabilities, parent communication and staff management tools and classroom automation, Kangarootime helps childcare centers grow and scale. To learn more about optimizing your center with Kangarootime, visit kangarootime.com