As a childcare center leader, effectively managing staff is a top priority. Childcare providers are currently facing the issue of hiring, managing, and retaining quality staff members. By implementing new procedures, tools, and resources, you'll be able to better manage your staff. 
Using a software program like Kangarootime can give you all the tools you need to manage your staff and help them succeed. Your staff can be in control of their classroom and effectively communicate with parents while you manage payroll, scheduling, and more. To learn more about different tools and resources that can improve the working environment at your center, keep reading. 
Classroom Management System
Managing and retaining quality staff members starts with giving them the tools to succeed. A childcare management system is one way to set your staff up for success. This software will allow your teachers to oversee their classrooms, connect with parents, and increase the quality of care for the children all while making their jobs easier. 
With Kangarootime, your staff has access to our Rooming module, giving them an overview of their classroom and each child in it. Here they can record digital daily notes, send photos, message parents, track attendance, and more. This all-in-one hub makes point-of-care easy for your staff.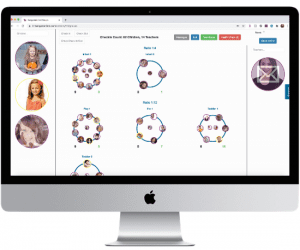 Kangarootime's Rooming Module
Staff Scheduling Platform
Staff scheduling doesn't have to be a hassle for your administrators. Having a clear, concise, and easy-to-use scheduling system can save you hours each week. It can also make it easier for your staff to understand their schedule, track their time worked, request time-off, etc. Kangarootime recently launched a Staff Scheduling platform that allows you to schedule your staff across multiple platforms, approve time-off requests, better understand staff utilization across your center(s), and more.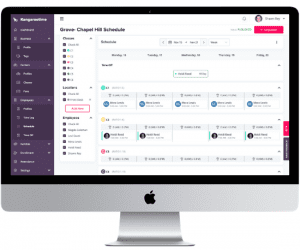 Kangarootime's Staff Scheduling Platform
Interested in getting started with Staff Scheduling? Sign up today!
Easy Payroll
Make your payroll process easy and seamless. By implementing a tool like Kangarootime's software, you can ensure accuracy, save time, and avoid potential payment mistakes. 
Staff can clock in and out using Kangarootime. Their time logs are then recorded within the software and can then be easily exported to your third-party payroll provider. This can save you hours each week and reduce manual error.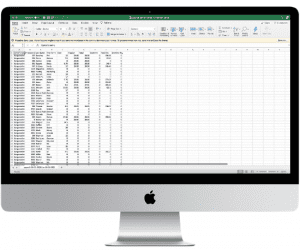 Kangarootime's Payroll .csv File
Free Downloadable Templates
If you're not currently using any software, these templates can help your center stay organized. We've created a variety of templates to help you track staff's hours, record daily notes, monitor developmental milestones, and more. Download these printable templates for free below. 
Staff Timesheet Template: Easily track your staff's hours using this printable timesheet template. Download the template here. 
Daily and Weekly Teacher Scheduling Templates: Schedule your teachers within each classroom and track their total hours with these daily and weekly templates. Download the templates here. 
Infant Daily Report Template: Have your staff record daily notes using this infant daily report template. Download the template here.
Toddler Daily Report Template: Record the daily notes of the toddlers in your care using this template. Find the template here. 
---
Kangarootime is the leading all-in-one childcare management software for daycares and preschools. With billing and invoicing capabilities, parent communication and staff management tools and classroom automation, Kangarootime helps childcare centers grow and scale. To learn more about optimizing your center with Kangarootime, visit kangarootime.com.