Childcare software can completely transform your childcare center, daycare, or preschool. This software was designed with your business in mind to help save time, maximize efficiency, and improve your operations.
When it comes to selecting a software that's right for you, it's important to be mindful of features, customer support, implementation, and pricing. Take a look at some of the top features to look out for when finding a new childcare software for your business.
Automated Billing
Automated billing can save your center time and increase efficiency. You no longer have to worry about manually processing payments and issuing invoices. Automated billing allows you to customize your fees, billing cycles, and more for a seamless payment process.
Not only does this save your staff hours each week but it also makes paying tuition easier for parents. Many software platforms, like Kangarootime, allow parents to pay online resulting in more timely payments. Automated billing also helps mitigate the risks of manual billing mistakes. Automation triggers flags and notifications for billing mistakes, catching them before they're processed. 
Parent Engagement
Parents love to be connected to their children throughout the day. With parent engagement tools, you and your staff can connect with families and keep them informed. Staff can share photos, videos, and daily notes with parents all through their parent app.
Parents can even pay their bills and view important child information. This keeps them involved in your center, improves your center's value, and provides convenience for both staff members and families. 
Staff Management
Staff management is crucial to the success of your business. Childcare software comes with features to help you better manage staff like staff scheduling, time logs, time off requests, and more. With Kangarootime you can even schedule staff across multiple centers!
Using a staff app, your employees can better care for the children at your center using daily notes, photos, videos, and more.
Enrollment
Enrollment features can help simplify processes at your center. By capturing lead information right from your website, allowing them to register important information, and automatically join your waitlist, you can maximize your center's occupancy.
With software like Kangarootime, you can even forecast open spots, monitor when children can age up, and offer families a spot in your center.
Reporting
Reporting features are essential when it comes to making business decisions. With an extensive list of reports, you can evaluate the financial performance of your business, build a better budget, monitor expenses, and more. Reports also keep you organized when it comes to licensing and managing other aspects of your business.
With Kangarootime, you get an extensive list of in-depth reports along with dashboards to help you visualize pertinent information.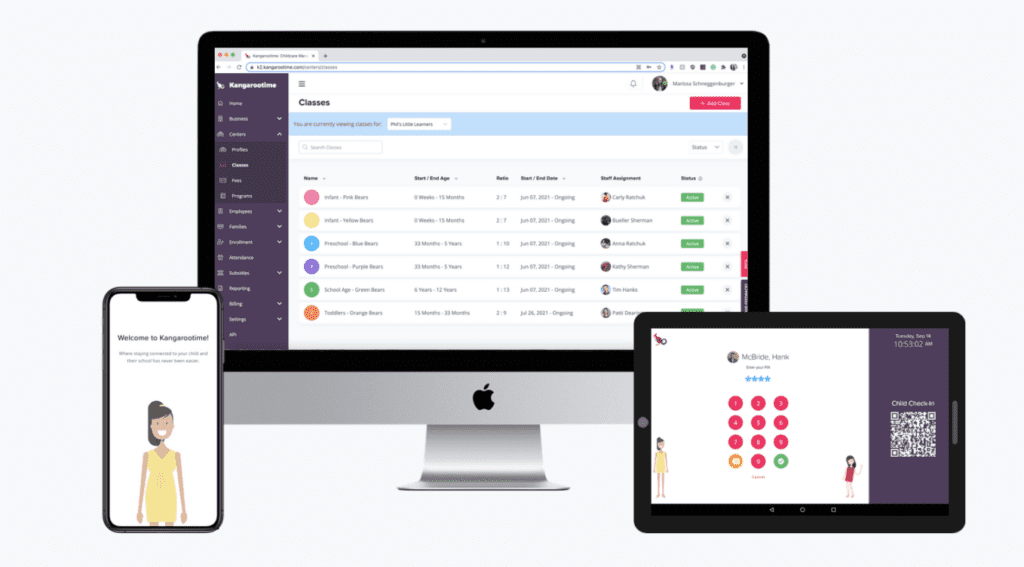 ---
Kangarootime is the leading all-in-one childcare management software for daycares and preschools. With billing and invoicing capabilities, parent communication and staff management tools, and classroom automation, Kangarootime helps childcare centers grow and scale. To learn more about optimizing your center with Kangarootime, visit kangarootime.com