You may have heard of childcare software but do you know what it can do for your childcare center, daycare, or preschool? Software has a range of benefits and can bring immense value to your business. It can help you save time, improve communication, better manage staff, give you insight into your business data, and more. All of these benefits result in a higher-quality center, improved parent engagement, increased enrollment, and a thriving business. 
Even with all of these benefits, you may be wondering if software is right for you. There is childcare software available at all price points for centers of all sizes. To help you identify your needs and begin your journey of finding the right software for your business, Kangarootime has created a series of guides for selecting your CCMS, found here.
To learn more about the value and benefits of childcare software for your center, keep reading. 
Save Time
The greatest and most tangible benefit of software is saving time. If you're spending hours each week on billing and invoicing, communicating with parents, scheduling staff, collecting reports, and more, childcare software is for you. Software can automate all of these processes, saving you time and giving you more control over your business. Saving time allows you to spend more time growing and improving your business. Now you can focus on your center's marketing efforts, improving company culture, and providing more value to parents.


Improve Parent Communication
Today's parents highly value connecting with their children throughout the day, even when they can't be there physically. With software, you can connect parents to their children using digital daily notes, photos, videos, and more. Software even gives center staff the ability to message parents regarding important happenings at your center. This garners more trust with parents and makes center operations easier. Having parent communication features is a huge value-add for your business and results in more satisfied families. 

Better Manage Staff
Staff management is complex and time-consuming as a business owner. When it comes to scheduling, it's difficult to know if you're maximizing efficiency. Software allows you to create a schedule that works best for your center. You'll be able to avoid overlapping and overtime, ensure you have enough staff for each space, and be mindful of ratios in the process. You can even track vacation time and time logs within the software, keeping staff management easy and simple. 
Beyond scheduling and managing staff, adding software to your center gives your staff the tools to succeed. With software, they can spend less time recording daily notes, communicating with parents, and tracking child information. Now, all of these processes can be automated and done quickly within your software. This allows them to put their focus where it matters most, on the children. 

Make Informed Business Decisions
Childcare software comes with a range of features to give you deeper insight into your center's operations. With in-depth reports and dashboards, you can get a clearer picture of your center's daily activities and make informed decisions regarding the future of your business. Gain insight into enrollment information, financial data, classroom activities, and more. With Kangarootime's software, you can even automate your enrollment process and understand when spots in your center will open up. Get a visual look at available spaces in your center along with the number of children eligible to age up. This allows you to maximize the space in your center and increase enrollment. Understanding data is crucial for the viability of your business. Luckily, this process is made easy and digestible with childcare software.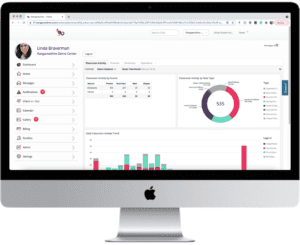 Improve Center Quality
It's easy to see that software will completely transform your center and greatly improve center quality. By adding a software program to your center, you can save time, provide more value to parents, make your center a better place to work, and improve center operations. With all of these benefits, you're able to simplify processes and focus on growing your business. If you're interested in learning more and getting started with childcare software, fill out the form below.
Interested in learning more about Kangarootime? Fill out the form below!
---
Kangarootime is the leading all-in-one childcare management software for daycares and preschools. With billing and invoicing capabilities, parent communication and staff management tools and classroom automation, Kangarootime helps childcare centers grow and scale. To learn more about optimizing your center with Kangarootime, visit kangarootime.com